US has most reported Covid-19 deaths in one day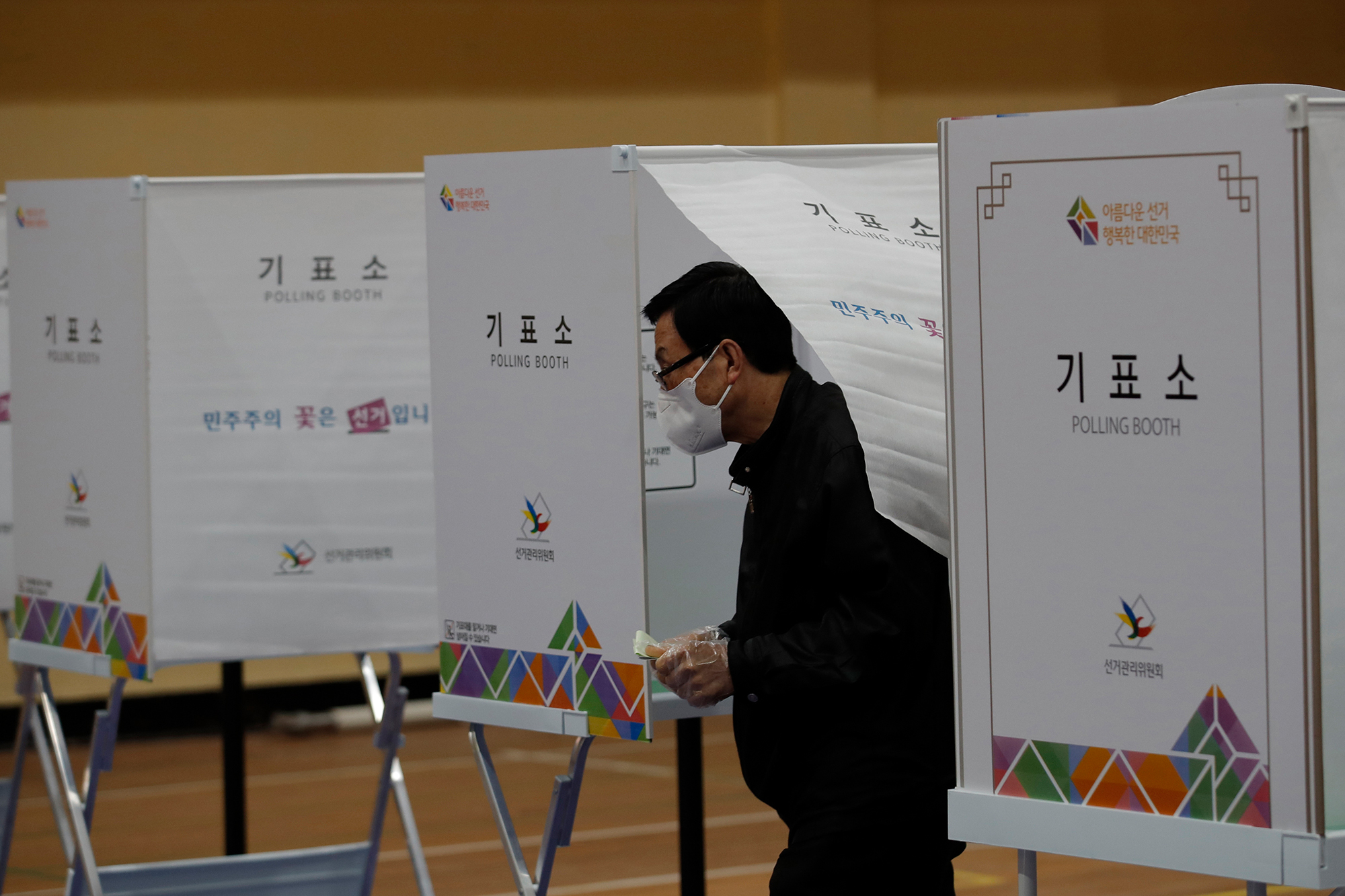 A voter wearing a face mask to help protect against the spread of the coronavirus exits out to cast his vote for the parliamentary election at a polling station in Seoul, South Korea, on Wednesday, April 15. Lee Jin-man/AP
The world is battling the coronavirus pandemic, but in South Korea, that hasn't stopped them holding an election.
South Korea's coronavirus outbreak peaked early, prompting praise for the government's handling of the pandemic. The country isn't in lockdown, and of the more than 10,500 confirmed cases, at least 7,400 have recovered.
Nevertheless, the country has taken precautions.
What's the election for? Around 44 million people are registered to vote in South Korea's legislative election, where they will elect 300 members of the National Assembly. At least 26% of registered voters cast their vote early.
How are voters being kept safe? When voters head to the polls today, they will have their temperature checked at the door. They'll need to stand at least one meter apart from each other as they line up. Polling booths will be regularly disinfected and anyone with a temperature of more than 37.5 degrees Celsius (99.5 degrees Farenheit) will have to vote in a special booth. About 20,000 additional workers will be dispatched to put in place the extra measures.
What about voters who are still in quarantine? Special voting booths have been set up at government-run isolation centers, and those under self-quarantine will be allowed to leave their house to vote after polling booths close to the public at 6 p.m.
How did the run-up to the election differ from normal? Politicians still held rallies and hit the streets to meet voters, but it was definitely different from normal campaign periods, which often involve K-pop style dance troupes. This time around, politicians wore gloves and face masks — one even wore a face visor.
Will turnout be lower than normal? One of the big concerns with running an election during a pandemic is that people may decide not to vote as they're afraid of getting sick. Statistics from the National Election Commission show that so far, turnout is actually slightly higher than it was at the last election.
Some voters CNN talked to in the lead-up said the pandemic made voting even more important.
Read more here:
358 total views, 2 views today